Amsterdam
06.07.1970 - 12.07.70
---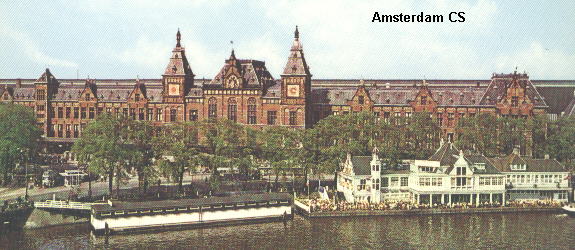 • Amsterdam CS, postkort fra dengang jeg besøgte byen
•• Postkarte von damals ••• Postcard bought as I visited Amsterdam
---
• I sommeren 1970 var det igen tid for en udlandstur med mine forældre til tryllekongres - denne gang i Amsterdam til "Congress vor de Goochelaars". Vi boede på et lille smalt men højt hotel på "Prins Hendriks Kade" skråt over for Amsterdams Centralstation. Der tilbragte jeg selvfølgelig det meste af tiden med at kigge på tog.
Amsterdam CS var interessant på flere måder. Øst for CS ligger en bro, der kan åbnes for skibe. NS kører med 1500V jævnstrøm (som Københavns S-tog!), men der var ingen køreledninger over broen, så lokomotiverne kørte på frihjul over.
Vest for CS lå en nyopført postbygning og en mindre godsbanegård. Dengang sad Amsterdams postkasser bag på alle sporvognene, som havde vendsløjfe foran CS. Hvergang en sporvogn vendte her, blev postkassen tømt. Smart!
En af dagene spadserede jeg østpå langs jernbanen og kom efter en times tid til en enorm godsbanegård kaldet Rietlanden. Denne er i dag helt forsvundet og et nyopført boligkvarter giver nu husly til et par tusinde mennesker. Dengang i 1970 var det meget mere interessant. Helt ude for enden af den kilometerlange sporrist lå en lille færge i sit leje. Med denne færge transporteredes godsvogne rundt til private firmaer i Amsterdams havn, som ellers ikke havde sporforbindelse.

•• Im Sommer 1970 war es wieder einmal Zeit für eine Auslandsreise mit meinen Eltern zu einem Zauberer-Kongress - diesmal in Amsterdam. Wir wohnten in einem sehr schmalen, aber hohen Hotel am "Prins Hendriks Kade" gegenüber dem Amsterdamer Hauptbahnhof (Centraal Station). Hier verbrachte ich selbstverständlich die meiste Zeit meines Aufenthalts in Amsterdam.
Amsterdam CS war aus mehreren Gründen interessant. In östlicher Richtung liegt eine Brücke, die zum Durchlass der Schiffe geöffnet werden kann. Die NS fährt mit 1500 V Gleichstrom am Fahrdraht, aber über der Brücke waren keine Fahrdrähte montiert. Die Züge fuhren mit Schwung über die Brücke.
Westlich der Bahnhofshalle liegen das (damals) neue Postgebäude und ein kleiner Güterbahnhof. Damals waren die Amsterdamer Briefkästen am Heck der Straßenbahnwagen montiert. Die Briefkasten wurden dann jedes Mal entleert, wenn der Straßenbahnwagen in der Schleife vor der CS wendete. Echt Klasse!
Eines Tages wanderte ich gegen Ost nach den großen Verschiebebahnhof "Rietlanden". Heute liegen hier Wohnhäuser für Tausende von Menschen und nichts verrät mehr, dass hier einmal ein großer Güterbahnhof lag. Damals 1970 war es viel interessanter. Am Ende der kilometerlangen Gleise fand ich eine kleine Eisenbahnfähre, die Güterwagen Versendern ohne Gleisanschluss rund um den Amsterdamer Hafen lieferte.

••• In summer 1970 I once again travelled with my parents to a magic congress. This time it was in Ansterdam. We stayed at a very narrow but high hotel at "Prins Hendriks Kade" just across a canal and the town square in front of the central station. Here on this square all tramways of Amsterdam had a stop, and on the back of the trams you could find the Amsterdam mailboxes. Theese were emptied whenever the trams made a halt here in front of the stationbuilding, and the mail was carried to the adjacent GPO. Smart!
Seen from the CS towards east there was a remarkable bridge that could be opened for ships. Despite of the electrified railway traffic - at 1500V dc - the bridge itself caried no catenary. The trains had to freewheel over the bridge!
One day I walked a couple of miles to the huge freightyard east of the CS, called "Rietlanden". Nowadays all the tracks here have been substituted with buildings housind some 2000 people. I 1970 however it was much more interesting. At the end of the freightyard there was a tiny railway ferryboat servicing some customers around the Amsterdam harbour.

---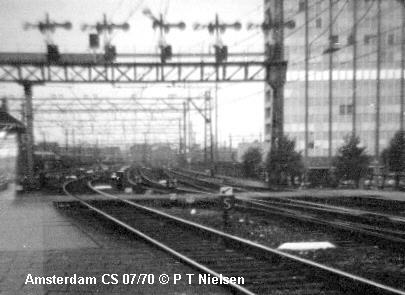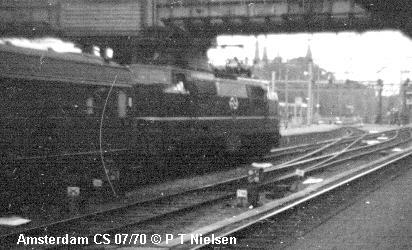 • Amsterdam CS, udkørsel mod vest •• Ausfahrt gegen West ••• Station throat west.
---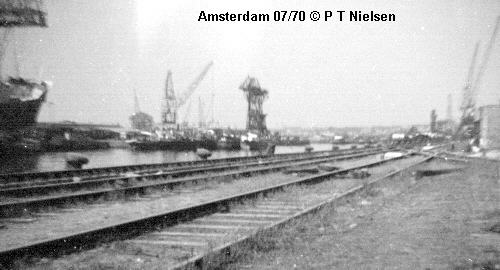 • Luftfotografi over Rietlanden fra omkring 1938 (fra internettet). Klik på billedet for at forstørre. Ved "A" lagde den lille jernbanefærge til og ved "B" tog jeg nedenstående foto.
•• Luftbild von Rietlanden. Anklicken um es zu vergrößern. Ca 1938. Der kleine Fähre lag bei "A". Das untere Foto wurde bei "B" aufgenommen.
••• Airphoto of Rietland c. 1938. Klick to enlarge. I found the small ferryboat at "A", and at "B" the photo below was taken.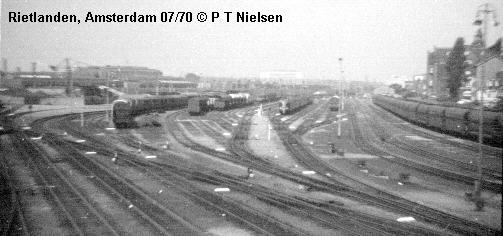 ---


Amsterdam CS, Amsterdam Rietlanden
----------------------------------------------

 NS lokomotiven
      235 "SIK" FOTO
      521
     1005
     1107 1108 1110 1133 1113 1118 1119 
     1125 1130 1134 1150 1158
     1201 1205 1219 1222 1224 1225
     1301 1305 1308 1310 1312 1315 1316
     2212 2238 2241 2244 2275 2276 2285 2292 2293 2295
     2306 2308 2316 2323 2326 2337 2338 2340 2346 2347
     2431 2442 2460

 NS/SNCB treinstellen
     Benelux    1206 BDk-ABk  1207 1208  
     NMBS       220901 BDk-ABk  220903
     -          183Bk-183Boo-183Bo-194mD-183ABk
     -          185Bk-185Boo-190mD-185ABk
     -          186Bk-186Boo-186BO-193mD-186ABk
     Plan G     350ABdk-902Pe-350Bk (Pe=Post)
     Plan Q     390ABdk-918Pe-390Bk (Pe=Post)
     Plan T     504 Bk-BD-B-Bk   510 
     Plan T     511 Bk-BD-AB-Bk  513 515
     Plan U     150 mBDk-B-ABk   151
     Plan V     426 ABDk-Bk      409 429
     Plan V     482 ABk-Bk       441 447 454
     mP         3007 3029 3004  (motorpost)
     Post Pe    913 902 918 (Plan G/Q)

 Wagen 

50-2065070-5 21 (Gluwx)Glxu
50-3430731-8 21 •Klms
50-3434684-5 21 •Klms (Rmoos)
50-3800375-6 21 SSly
50-4080164-3 21 (Ogllw)Ogll

51-1473817-5 22 •Ggs (Kddet)
51-1475745-6 22 •Gbs (Kddet)
51-1481152-7 22 •Ggs (Kddet)
51-8062515-7 22 •Ichqrs (Slmsh)
51-8064563-5 22 •Ichqrs (Slmsh)
51-8064774-8 22 •Ichqrs (Slmsh)

54-4016806-4 21 Otdr
54-4021905-7 21 Otd/•Lcps

66 0642060-7 51 CIWL
66 0680091-5 51 CIWL
66 0850025-7 51 CIWL ex FS2975
66 0850066-1 51 CIWL ex FS4213

72-1501326-9 21 •Gbs-z

80 0046602-0 51 Post mr-b/26
80 1880003-6 61 Apümh 121 TEE
80 1880120-8 61 Apümh 121
80 1980134-8 61 Avümh 111 TEE
80 1980137-1 61 Avümh 111
80 2240410-8 51 Büm 232
80 2240789-5 51 Büm 232
80 2240977-6 51 Büm 233
80 2241152-5 51 Büm 234  210-1 213-5 348-9
80 2250001-2 50 Bnb 719
80 2250014-5 51 Bnb 723  028-5 030-1
80 3110015-0 51 ABn 703
80 3140168-1 51 ABüm 223  169-9 210-1 278-8 313-3
80 3140395-0 51 ABüm 224  406-5 423-0
80 3140466-9 51 ABüm 225
80 3150001-1 51 ABn 703
80 5080039-1 51 Bcüm 243
80 5080053-2 51 Bcüm 243
80 8210010-9 51 BDn 738
80 8846140-6 51 WRüg 152 DSG
80 8880021-3 51 WRümh 132 TEE
80 8880191-6 51 WRüg 152 DSG
80 9580004-2 51 Düms 905
80 9580006-7 51 Düms 905
80 9580019-0 51 Düms 905

80-0771465-0 21 VTG
80-1201026-2 01 •Gs 204  1148-4 1291-2 1296-1
80-1203003-9 01 •Gs 204
80-1204380-0 01 •Gs 204
80-1232623-9 01 •Gs 213 Gmms 60
80-1242050-3 01 •Gs 216
80-1242126-1 01 •Gs 216 Gmms 216
80-1253065-0 01 •Gs 212 Gmms 56
80-1253820-5 01 •Gs 212 Gmms 56
80-1501600-7 21 •Gbs 254 Glmms 61
80-1502439-9 01 •Gbs 254
80-1510210-4 21 •Gbs 254
80-1515185-3 21 •Gbs 256 Glmms 64
80-1517246-1 21 •Gbs 245 Glmms 50
80-1522671-3 21 •Gbs 245 Glmms 50
80-1528575-0 21 •Gbs 253 Glmms 57
80-1546818-2 21 •Gbrs 245
80-1558379-0 21 •Gbrs-v 253
80-1559175-1 21 •Gbrs-v 254 Glmmehs 61
80-2123485-9 21 •Hbcs 300 Gltmms 62
80-3900594-3 31 •Rs 680
80-3905473-5 31 •Rs 680 SSlmas 53
80-3906075-7 31 •Rs 683
80-4319312-5 21 •Laabs 588 BTmms 51 (1xEwkrt233 5xEkrt231)
80-4340149-2 31 •Sss-y 716
80-5400365-0 21 •Ed 084 Otmm 52
80-5400520-0 21 •Ed 084  0492-2 0365-0
80-5412108-0 21 •Ed 090
80-5416088-0 21 •Ed 090 Otmm 70
80-5418585-3 21 •Ed 090 Otmm 70
80-5422448-8 21 •Ed 090
80-5423123-6 21 •Ed 090 Otmm 70
80-5423573-2 21 •Ed 090
80-5702689-8 21 •Ts 851
80-5716812-1 21 •Tbis 870 Klmmgks 66
80-5716880-7 21 •Tbis 870 Klmmgks 66
80-5718864-9 21 •Tbis 869 Klmmgks 869
80-5719238-5 21 •Tbis 869 Klmmgks
80-5719876-2 21 •Tbis 869
80-5770287-8 21 •Tis 858 Kmmgks 58
80-5771475-8 21 •Tis 858 Kmmgks 58
80-5854083-3 31 •Taes 890 KKks 890
80-5854571-2 31 •Taes 890 KKks 890
80-5855096-9 31 •Taes 890 KKks 890
80-6761183-6 31 •Fad 167 OOt 50
80-6761866-6 31 •Fad 167
80-6762030-8 31 •Fad 167 OOt 50  2733-7 
80-6762151-2 31 •Fad 167
80-6764169-2 31 •Fad 167 OOt 50  4887-9
80-6765178-2 31 •Fad 167 OOt 50  5148-5
80-6766071-8 31 •Fad 168 OOt
80-6766450-4 31 •Fad 168 OOt
80-6766598-0 31 •Fad 168 OOt 168  6721-8 6876-0 6944-6
80-6767039-4 31 •Fad 168 OOt 168  7101-2 7289-4
80-6767404-0 31 •Fad 168
80-6961030-7 31 •Fadss (175)
80-6961129-7 31 •Fads 175 OOts
80-8024602-8 11 •Ibdlps 383 Tnfs 32
80-8024705-9 11 •Ibdlps 383
80-9105890-7 21 •Ucs 908
80-9990036-3 31 •Uai 782 SSt 423

81-1200358-9 01 •Gs
81-1200603-8 01 •Gs
81-1355019-0 01 •Glms
81-1542141-2 21 •Gbqrs
81-5030887-4 01 •E

82-1030125-7 01 •Glm

83 2280100-3 51 Bz
83 2940528-7 51 Bz
83 3180065-7 51 ABz
83 3940122-7 51 ABz
83-0444592-6 20 •Laes SITFA
83-0444916-7 20 •Laes SITFA
83-0445503-2 20 •Laes SITFA
83-0830627-3 11 •Ibces
83-0832328-6 11 •Ibces
83-0832387-2 11 •Ibces
83-1204062-1 01 •Gs
83-1372248-8 21 •Gms
83-1633625-2 21 •Ghms
83-1682479-4 21 •Gbhs
83-3900898-5 31 •Rs
83-5013901-2 01 •E

NS    6005      A
NS    6006      A
84 0030038-1 50
84 0037015-3 50      017-9 033-6 043-5 (Post)
84 1837208-4 50      212-6 213-4 218-3 222-5 247-2 252-2
84 1837253-0 50      255-5
84 1840101-5 51 A9
84 1840103-1 51 A8
84 2130402-5 50      405-8 407-4 416-5 417-3 424-9 425-6
84 2137501-7 50      505-8
84 2837115-9 50      117-5 122-5
84 2937206-5 50      215-6 221-4 226-3 235-4 236-2 246-1
84 2937254-5 50      258-6 273-5 278-4 282-6
84 2937275-0 50 B9b  298-2 302-2
84 2937306-3 50      307-1 311-3 314-7 331-1
84 2940132-7 51      142-6
84 2940148-3 51 B9
84 3840157-3 51      185-4
84 5040003-2 51      011-5 014-9 017-2 022-2 024-8 025-5
84 8737202-3 50      213-0 223-9 225-4 227-0
84 8737218-9 50 RD   226-2
84 8740101-1 51      106-0 107-8
84 8850002-7 51  ex 4264
84 9540001-3 51 D
84 9540017-9 51 Div

NS   16398      CHEK (EUROP) - Scheune ohne Räder
NS  722225   pa ALGIN
84-0562032-8 20 •Tad   VAM
84-0578025-4 20 •Tads  VAM
84-0702017-9 21 •Uh Mobil
84-0702067-4 21 •Uh BP      2063-3 2062-5 2077-3
84-0703685-2 21 •Uh MOBIL   0683-7
84-0705430-1 21 •Uh Natronchemie  5447-5
84-0705705-6 21 •Uh KNZ
84-0722006-8 21 •Uhs Mobil
84-0722010-0 21 •Uhs Mobil  2011-8 2012-6 2013-4 2014-2
84-0722021-7 21 •Uhs BETHLEHEM
84-0722075-3 21 •Uhs BP     2061-3
84-0722168-6 21      EZET
84-0723685-8 21 •Uhs MOBIL  3683-3 3684-1
84-0725428-1 21 •Uhs Natronchemie NV
84-1010311-1 21 •Gl
84-1201512-3 21 •Gs  1603-0 1630-3 1645-1 1827-5 1889-5
84-1201892-9 21 •Gs  1989-3 1994-3 1996-8
84-1202037-0 21 •Gs  2467-9
84-1202524-7 21 •Gs-y
84-1210020-6 21 •Gs-v  
84-1210381-2 21 •Gs-v  0383-8
84-1210746-6 21 •Gs-v
84-1271312-7 01 •Gs
84-1281726-6 01 •Gs-v  1746-4 FOTO
84-1330101-0 20 •Gls  0821-3 0860-1 0577-1 0403-0 0113-5
84-1330466-7 20 •Gls  0707-4 0101-0 0819-7
84-1330528-4 20 •Gls  0226-5 0800-7 0735-5 0403-0 0577-1
84-1331180-3 20 •Gls  1973-1 1446-8 1795-8 1732-1
84-1331652-1 20 •Gls  1705-7 1997-0 1915-2 1273-6 1446-8
84-1331939-2 20 •Gls  1498-9 1205-8 1613-3 1466-6 1180-3
84-1331971-5 20 •Gls  1568-9 1935-0 1224-9 1783-4 1151-4
84-1331982-2 20 •Gls  1928-5
84-1332021-8 20 •Gls
84-1500036-1 21 •Gbs  0161-7 0195-4 0216-9 0236-7 0448-8
84-1500467-8 21 •Gbs  0493-4
84-1500505-5 21 •Gbs - holzplattenwänden
84-1501211-9 21 •Gbs  1299-4 1467-7 1486-7 1555-9 1585-6
84-1501602-9 21 •Gbs
84-1563073-8 21 •Gbls  3116-5 FOTO
84-2115046-5 21 •Hbis-w  5052-3
84-2115108-3 21 •Hbis-w  5106-7 5141-4
84-2116078-7 21 •Hbis  6131-4 6162-9 6185-0 6061-3 
84-2116218-9 21 •Hbis  6266-8 6204-9 6312-0 FOTO
84-2116195-9 21 •Hbis-w
84-2123004-4 21 •Hbcs-v
84-2130010-2 21 •Hbcs
84-3023027-4 21 •Kb-w  3025-8 3011-8
84-3023140-5 21 •Kb-w  3175-1
84-3023246-0 21 •Kb-w  3228-8 3253-6 3235-3
84-3023308-8 21 •Kb-w  3317-9
84-3330669-1 01 •Kbs
84-3340032-0 21 •Kbs-w  0025-4 FOTO
84-3800005-7 31 •R  0010-4 0011-5
84-3910004-7 31 •Rs  0101-1 0152-4
84-3913045-7 31 •Rs-v  3042-4 3020-0 3027-5
84-5000456-7 21 •E
84-5000549-9 21 •E  (Korb-Puffern)
84-5001395-6 21 •E
84-5003987-8 21 •E
84-5004415-9 21 •E  4701-2 4754-1
84-5005020-6 21 •E  5747-4 5748-2 5971-0
84-5006087-4 21 •E
84-5072275-8 01 •E  (EUROP)
84-5500046-1 21 •Eds
84-5500053-5 21 •Eds-v
84-5500111-3 21 •Eds  0671-6 0808-0
84-5501061-9 21 •Eds  1131-0
84-5600106-2 21 •T-x  0162-5 0146-8 0141-9 0152-6 0189-8
84-5600119-5 21 •T-x  0155-9 0167-4 FOTO
84-5600153-4 21 •T-x-y
84-5600159-1 21 •T-x  0116-1 0125-2 0112-0
84-5600219-3 21 •T-x  0223-5 0218-5 0211-0 0229-2
84-5602003-9 21 •T-u  FOTO
84-5602011-2 21 •T-u  2046-8  (ohne Dach)
84-5702019-4 21 •Ts-u  2004-6 2033-5
84-5702036-8 21 •Ts-u  2016-0 2038-4
84-5730050-5 21 •Tds  0088-5 0036-4 0013-3 0054-7 0008-3
84-5730111-5 21 •Tds  0104-0 0110-4 0220-4 0086-9
84-5730247-7 21 •Tds  0236-0 0203-0 0240-2 0229-5 0248-5
84-5740037-0 21 •Tdgs-y  0031-3 0014-9
84-6789156-6 31 •Fads  9162-4 9155-8 9144-2 9178-0 9117-8
84-6789184-8 31 •Fads  9169-9 9147-5
84-6789222-6 31 •Fads  9221-8 9224-2 9248-1 9278-8
84-6789248-1 31 •Fads  9269-7 9203-6 9244-0 9206-9
84-6960005-6 31 •Fads  0031-2 0002-3
84-6960105-4 31 •Fads  0106-2 0120-3 0124-5 0117-9 0149-2
84-6960108-8 31 •Fads  0155-9 0123-7 0164-1 0192-2 0137-7
84-6960200-3 31 •Fads  0221-9 0262-3 0213-6 0226-8
84-6960267-2 31 •Fads  0274-3 0291-2 0204-5
84-9105406-8 21 •Ucs  5424-1 5416-7
84-9121003-3 21 •Uces  1084-3 1019-9 1032-2 1069-4
84-9121221-1 21 •Uces  1325-0 1316-9 1318-5
84-9121633-7 21 •Uces  1644-4
84-9411536-0 30 •G
84-9411537-8 30 •G
84-9411652-? 30 •G
84-9421540-0 30 •E
84-9423154-8 30 •E
84-9423215-7 30 •E
84-9427295-5 30 •E
84-9432006-9 30 
84-9432198-4 30
84-9432204-0 30 •K
84-9432275-0 30 •K
84-9432718-9 30 •K
84-9441503-4 30
84-9441932-5 30 
84-9442036-4 30 (=Fd+Fd)  2037-2  2040-6/2041-4
84-9442113-1 30 (=Fd+Fd)  2114-9 
84-9442165-1 30 •E  2128-1
84-9491424-2 30 •K
84-9500039-7 30    0044-7 0080-1
84-9541501-7 30 (=K)
84-9547000-5 21 (Schotterwagen/zelflosser)  7020-3
84-9701808-2 30 (Kranwagen)  1810-8
84-9733004-0 30 •R
84-9781600-6 30 
84-9791501-4 30

85-1370697-0 01 •Gms
85-1500550-0 21 •Gbs
85-1501461-9 21 •Gbs
85-5715138-6 21 •Tbis

86-1201553-9 01 •Gs
86-1201732-9 01 •Gs
86-1202341-8 01 •Gs
86-1202602-3 01 •Gs
86-1230022-0 01 •Gs
86-5000220-9 01 •E

87 1840547-6 51 A8
87 2080572-1 51 B10
87 2080606-7 51 B10
87 2080609-1 51 B10
87 3840577-9 51 A21/2B6
87 3840589-4 51 A21/2B6
87 5940104-2 51 B9c9
87 8146204-0 51 A3B4D
87 9540199-2 51 Dd4s
87 9540203-2 51 Dd4s
87-1200959-8 01 •Gs (K4)
87-1202658-4 01 •Gs 4-01
87-1250238-6 01 •Gs 3-11  plattenwänden
87-1294037-0 01 •Gs 3-13
87-1294109-7 01 •Gs 3-13
87-1901002-3 31 •Gas 8-16
87-1903933-7 31 •Gas 8-16
87-1909833-3 31 •Gas 8-16
87-3304072-7 21 •Ks 5-01
87-3906611-2 31 •Rs 9-16  (ab 1971 •Res 9-16)

88 1980403-1 51 
88 1980405-6 51 ex 11304
88 3840119-9 51 ex 13019
88-0892603-1 14 •Ifgs (P)?
88-1356076-2 01 •Glms 2231A0 (gewölbtes Dach)
88-3301464-2 01 •Ks 3212A2
88-3302519-8 21 •Ks 3212A9
88-3303202-0 21 •Ks 3202A2
88-3303215-2 21 •Ks 3202A2
88-3903565-2 31 •Rs 3514B3
88-5025844-5 01 •E 1232A1  5715-7
88-5209398-6 21 •Em 1212G4


---